Below are real testimonials from clients that took the time to tell of their experience working with me and my team. Each one tells a similar story a different way. My attention to understanding the needs of my clients and delivering solutions to them is what makes my clients excited about working with me. Read them over AND / OR listen to their video testimonials from our clients themselves. If you like what you read and hear, give me a call- Tom (203-268-4994 x3). I'm confident we can add value to your real estate experience!
Video
Testimonials:
14. Wayne and Jane Miller, Derby-CT, August 2017
13. Michael and Jean Dellorco, Fairfield-CT, July 2017
12. Luis Feliz, Norwalk-CT. May 2017
11. Jeff and Megan Cooper, Monroe-CT. November 2016
10. Cathy Royster, Hamden-CT. November 2016
9. Kevin and Elizabeth Caskin, Trumbull-CT. August 2015
8. Brian and Dianna Fuehrlein, Orange-CT. March 2015
7. Aaron Carter, Shelton-CT. April 2015

6. Dave Monahan, Monroe-CT, December 2014
5. John Newman, Monroe-CT, September 2014
4. John Cleri, Derby-CT, July 2014
3. Jason Karp, Newtown-CT February 2014
2. John Danielson, Darien-CT November 2013
1. Nate and Shikkita Tavares, West Haven-CT September 2013
---
Wayne Miller - July 2017
After several attempts to sell with prior agents, my team came up with a plan to make improvements to the home before selling. My client spent $8,000 for repairs and improvements including a new HVAC, refinished floors, painting, exterior landscaping, etc. We were under contract in 3 weeks, closed above asking price and my client sold for $30,000 more than where he expired at the last time he sold. His investment of $8,000 netted him $30,000. Slam Dunk! Below is the survey my client filled out for me...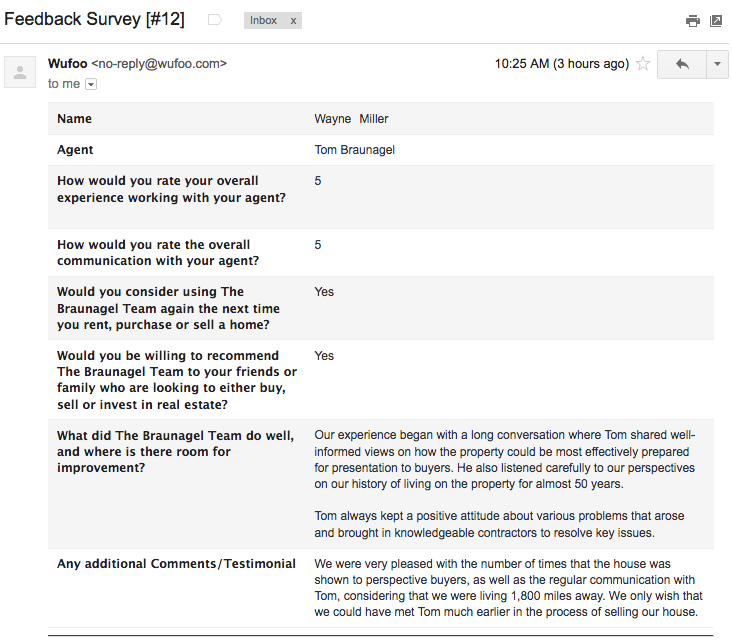 ---
Eileen Gordon
Eileen Gordon- October 2014: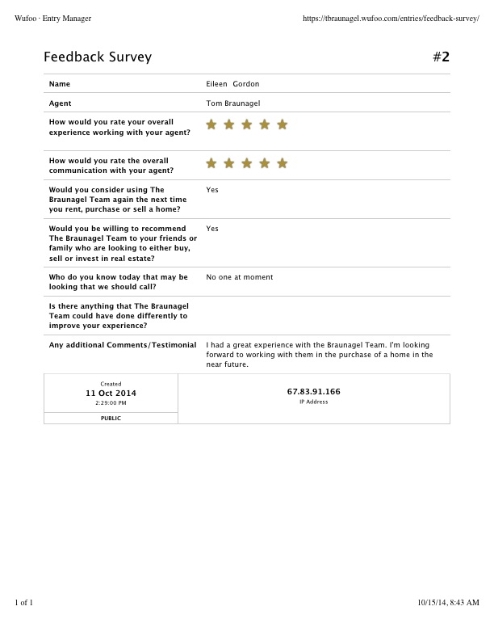 ---
John Cleri
John Cleri- October 2014: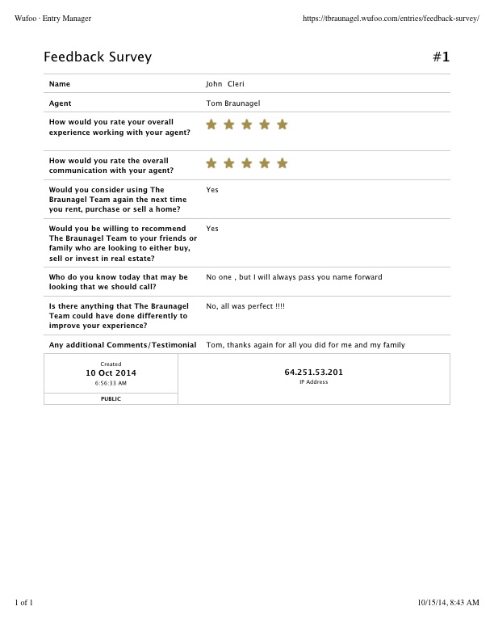 ---
June Noel
June Noel- October 2014: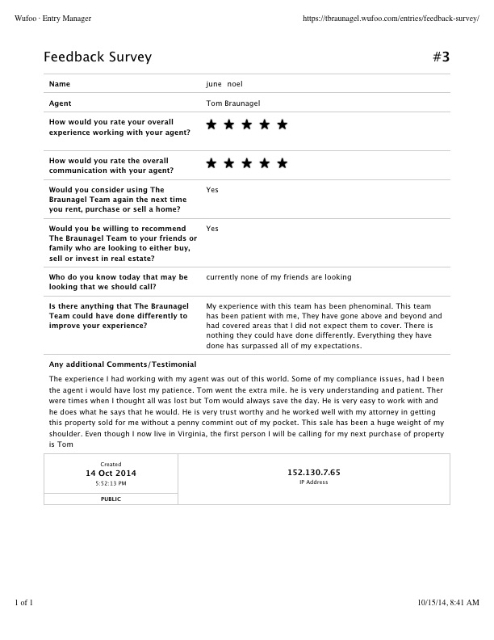 ---
Vinny Tabacco
August 2014:


To the Braunagel Team:


Thanks so much for staying on top of it. We have dealt with many real estate agents before and I can say you and Tom are some of the best in the business.

Thanks.


Vinny Tabacco
---
James and Alanna Senderhauf
April 2014:
The Braunagel Team was referred to us by a friend (Thank Goodness!) They took the time to help us figure out exactly what we were looking for. We explored a number of options including foreclosures, short sales, and building new. Tom even took the time to research builders and set up meetings with us to discuss this option. In fact, we met on Superbowl Sunday morning! Talk about dedicated! Anyway, we decided to continue our search on available homes and found one we love with the help of Tom and Marie. Marie set up numerous showings, worked around our hectic schedules, and literally took care of everything for us. From the paperwork, to putting us in touch with a great lender, to handling everything with the sellers, she followed through on every aspect of this transaction and made it a reality for us. Trustworthy, honest, patient, hard working, flexible, and dedicated are just some words that come to mind when I think of Tom, Marie, and the Braunagel Team.
Alanna and James Senderhauf
---
Len Orsini
Len Orsini Shelton, CT. 2014: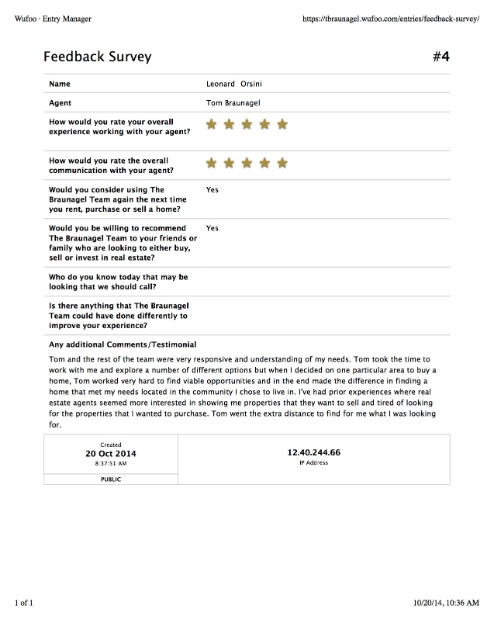 ---
Teron and Nicky Haughton
March 2014:
Being a first time homebuyer can be a very overwhelming experience. Not knowing what steps to take, whom you can trust, or what to expect can cause one to hesitate and shy away from the experience. Purchasing a home is a major life changing decision; not at all like buying a pair of shoes.
Although we weren't ready the Braunagel Team continued to give us calls just to ask us how we were doing and they remembered small details about our family that made us feel like we were talking to an old friend each time. Never once were we pressured about buying a home.
About six months down the line, my husband and I had cleared some debts and gotten our finances in order enough that we felt ready to buy a home. When we sat down and contemplated our first steps, we both immediately thought CALL TOM from the Braunagel Team!
From the time we made our initial call until the time we had our keys placed in our hands, Tom and the entire Braunagel Team were completely honest, patient, direct, efficient, caring, considerate, and resourceful to my husband and I. They truly had our very best interest in mind.
It didn't stop there! We still get a phone call from time to time asking how things are going in our new home. We even received a pleasant visit the following Christmas season with an appreciation gift!
I tell all of my family and friends to utilize the expertise and excellent service that the Braunagel Team has to offer. It's guaranteed to be an unforgettable experience of a lifetime.
Teron & Nicky Haughton
---
Ron Nihoff and Dianna - 3-2012
Hi Tom, I just wanted to take a minute to tell you how much of a pleasure it was having you as my Realtor. I have never, in my previous experience of trying to sell my home, had things go so well and easy.

Our first meeting I immediately felt at ease and as if we knew each other for years. Your infectious attitude and knowledgeable marketing plan was amazing!

You and your team at Keller Williams in Trumbull are a well oiled machine!!

Thanks for making our dreams for the future become a reality!

Ron and Dianna

---
Atny Everett
July 2012:

Tom,

Thank you for sending up the home-made egg nog! Ryan warned us that it had a "kick" to it, and the adults enjoyed it on New Year's Eve.

Thank you for all your work in selling our home. Here's wishing you and yours a very happy, healthy, prosperous new year. If I can provide any professional assistance, for your family or your clients, just let me know. I look forward to hearing from you.

Sincerely,

Everett

---
Clay and Rebecca
November 2011:

Tom and Deb,

Thanks for helping us rid ourselves of the single worst real estate investment we've made! The Braunagel Team was thorough and steadfast in selling our home despite several challenges you encountered. You met them head on and blew through them like they were irrelevent.

Regardless, we are grateful to you guys for your patience and understanding during this process.

To the Braunagel Team: Rebecca and I appreciated your professionalism during the entire engagement. Wishing you all the best in 2012. Things are definitely looking up from our perspective and a good way for us to start the year so again, thanks!

Sincerely,
Clay & Rebecca

---
John Suddreth
October 2009:

I would highly recommend Tom Braunagel and Keller Williams Realty as your realtor. I have moved 4 times in the last 10 years with my company and Tom has been the best I have worked with. When selling or buying a house I look for an agent that does thorough market research with the expectation that he will price my house to get the best price for a quick and timely sale. Throughout the period of the sale, Tom used every possible means to market the house, from the internet to word of mouth in order to reach all potential buyers. Tom's market research was accurate and did not end with just the initial study - he continued to update us on the current market as houses came on the market or were sold.

Tom provided services above and beyond those expected of most agents. When we had to move to Virginia two months before we closed on the house, he handled all the inspections and arranged for all of the repairs in our absence until the house sale had closed. Having a strong agent willing to do what it takes to complete the sale, allowed my family to move on to our new life with the confidence that we were well represented in Trumbull, CT.


John Suddreth
---
Rose Bednarz
March 1, 2008
To Whom It May Concern:
It has been a pleasure working with Tom Braunagel as my real estate agent this past year. When we discussed a possible listing of my house in Huntington last July, I asked Tom why I should list with him. Tom said his marketing was what differentiated him from others and that he sold houses in less than half the time others did. After agreeing to list with Tom last summer, he held 2 open-houses within the first few weeks, received 2 offers shortly after and we closed within 3 weeks of the final offer acceptance with the help of Tom's excellent negotiation skills. WOW! These actions spoke louder than his words.
Tom's competitive market analysis was very thorough and his pricing strategy for my house resulted in a very acceptable selling price after his negotiations. Tom's advice in staging the house was very helpful and as I "painfully" starting removing some of the clutter, I kept repeating Tom's words, "we're selling space." It worked!
Tom's professionalism in the sell transaction led to our asking him to represent me and my fiancé in buying a house and the possibility of selling my fiancé's condominium after we bought a house. Tom again provided excellent customer service which resulted in our buying and closing on a house in Fairfield within a short time. Tom provided excellent mediation services with a mortgagor in a situation that became unprofessional. Tom offered moving assistance, and provided us with excellent resources for both moves.
Once we moved into the house, Tom again used his professional marketing abilities and listed and sold the condominium in a down market. Again, he fairly priced the property and negotiated with the buyers for a reasonably quick sale.
I would highly recommend Tom Braunagel to represent buyers and sellers in future real estate transactions.
Sincerely,
Rose Bednarz
---
John and Rose from Fairfield
In the Fall of 2007 I worked with Tom Braunagel on both the sale of our then current home and the purchase of a new home. Tom did an excellent job representing us on both ends, and I'd like to share some thoughts on the experience.
When evaluating brokers Tom presented himself quite professionally. He indicated that he would be honest with us at all times, would aggressively market our home and would aggressively carry out the search on the buy end. That proved to be the case. When we discussed our plans for our home sale, Tom encouraged us to follow a strategy that worked within the constraints of the slowdown at hand, and yet got us a fair price for the home. His advice covered pricing, timing, positioning and presentation. We had regular reviews of our status, and modified our approach as time and new information dictated. The house was marketed aggressively, sold quickly (given the market conditions) and closed smoothly.
On the buy side Tom was effective in pairing our requirements with the available inventory, represented us well during negotiations and, through his network of mortgage, legal and contractor associates, made the transition easy.
Throughout his efforts were professional, friendly and effective. He displayed creative marketing skills, 'thinking out of the box'. He negotiated firmly, but fairly, and got both transactions completed in significantly less time than the market average. He knows the local market, and when he's not sure of an issue/point, he studies up quickly.
I would not hesitate to recommend Tom to any perspective buyer or seller in Fairfield County.
---
Keith and Meghan Wanser- Stratford
March 2009

Dear Tom,

Thank you for helping us find our first home. After I had called several realtors who were all too busy to get back to us, we called you. To our surprise, you actually answered your phone on a Friday night and took the time to listen to what we wanted, and looked into other options for us. You followed up and took us to see several listings that met our criteria and several more the next day. We really do appreciate your exceptional dedication to your clients... we found our home in just two days. You and all of your staff were very helpful and friendly every step of the way. Thank you.

We are settling into our new home and we are so happy, it really is the perfect house for our family. We are so thankful to you for helping us find it. This has been our dream for 5 years and it finally happened and we thank you for helping us to get here.

Sincerely,

Keith and Meghan Wanser
---
Greg and Tanya Herrera
October 2008

I feel that you are a kind, friendly agent. You didn't put pressure on us every time we looked at a house. You made us feel very comfortable...you put our needs first. We are very satisfied. thank you ...


---
Paul and Jill -Trumbull
May 2008

Tom and Ann-
Thank you so much for helping us get our new home. You were fabulous and always made us feel like we were your number one priority.
---
Sabina and Cezanne Huq -Trumbull
July 2008

Hi Tom,

My husband and I would like to thank you and Ann for your speedy assistance in the purchase of our new home. As first time home buyers we could not have done it without your help. Everyone that you have recommended from your pool of contacts have exceeded our expectations. We would definitely recommend you and Keller Williams to our friends and family should they ever need assistance with a home purchase.


---
Carmeta, Waterbury
November 2006

Tom and your team,
Thank you so much for your note of Congratulations. It was a pleasure working with you. You guys made sure that what I was looking for, I got. We did a lot of foot work looking for the right house, but in the end, I found exactly what I was looking for. I also want to thank you for negotiating a quick closing which was important to me. I'm now in my new home and couldn't be happier.

Thank you Tom and Natasha.


---
John and Nancy Hocurscak- Shelton
September 2006
Dear Tom,

We're so happy to be done with the sale of our home! With three previous and unsuccessful listings by other Realtors, you went and found our buyer in our very first showing. Your expert advice on how to market and stage our home, produced fast results for us!

As you can imagine, going through this process for the fourth time was already stressful before we even listed with you, but you and team ..., spun into action, and produced a highly professional web tour of our home, that had us and friends saying, "WOW, GREAT JOB!!!"

You sold our home in a very soft market and we still got a great price, close to our asking price. Needless to say, we're happy about that.

I would not hesitate to recommend you to anyone who may want to buy or list their home with you. I'm confident you'd give all you've got to get the job satisfactorily done for anyone.

Finally, you're a man of high integrity. Twice you put your money where your mouth is and kept your word. It's refreshing to know that there are people who give their word and KEEP IT!!! Honesty is a rare quality to find anywhere, but you are a man of your word.

What more can I say but, "Thank you ..." for a job well done. It was a pleasure doing business with you.

With Gratitude & Best Wishes,
---
Linda Frankel
November 2010
To The Braunagel Team: I wish I found you earlier.... I have been trying to sell my home on and off for the past 5 years through countless agencies and expierenced complete ignorance and lazyness and unprofessionalism from other companies until I met your team!

So, I would like to take this time to thank you and all of Keller Williams Staff for your professionalism, conscientiousness, impeccable organization, and countless hours to sell my home, in the worst possible economy. There were over 80 showings, wow, that is incredible perseverance and you and your team did it! You also guided me, all the way through, to find a new home for myself.
No doubt in my mind, I would highly recommend your company to everyone and I thank you for a job extremely well done.
Linda Frankel